Give the gift of hope, life and freedom.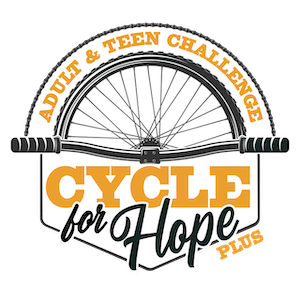 This year the PLUS is letting you know that anyone can get involved in CYCLE FOR HOPE by doing activities you may already be doing!
Donations toward CYCLE FOR HOPE come by done through:
Having a garage sale
A car wash
Care Group donation
In lieu of a birthday gift
There may be more ideas – EVERY donation counts!
Whatever you do, we know you are doing it to help the women in our program to succeed – to be healed, to become whole and have hope for a bright future.
Gerry Peters, our founding supporter of CYCLE FOR HOPE continues on with his amazing goal!
"I am thrilled to announce my CYCLE FOR HOPE challenge for 2022.
On July 3, I will be participating in the Okanagan Trestle Tour, an 80 km trail ride from Kelowna to Penticton. CYCLE FOR HOPE accepts an extraordinary challenge and dedicates the experience to the women at the Adult & Teen Challenge BC Women's Centre in Surrey BC.
Personally, I have lived with Multiple Sclerosis my entire adult life. I know what it's like to require a wheelchair for mobility for 4 years. I know what it's like to take my wellness seriously and fight back to experience daily health. At 67 years old, an 80 km trail ride for me will be a challenge.
However, it is, in my opinion, insignificant when compared to the commitment the ladies at the Patricia Hope House experience daily. They are my heroes. I want my pedalling to make a difference in the lives of others. My ride on July 3 is for each of them. Please participate with me by sponsoring my challenge. Every dollar raised will go directly to their ongoing healing and restoration."
Our goal for this event is $10,000!
THANK YOU for your time, your efforts and your donations! God has been faithful and has provided through your generosity.
Every day that women are in this program, He is setting them free.